PILLBOX is the world's smallest uni-directional driveway-rated recessed / in-grade marker luminaire. With fixture dimensions of an American nickel. Patent Pending.

Available in Turtle-Friendly AMBER.
Consisting of precision, hand-milled grade-5 titanium, PILLBOX is suitable for decorative and accent IP67 installation in any application, including extreme environments such as marine, arctic, and desert conditions. Suitable for recessed installation into horizontal or vertical surfaces of stone, wood, concrete, drywall, etc. for marker lighting of pathways, walkways, hallways, stairwells, poolside, pond-side, kitchen & bath for projects in the verticals of hospitality, residential, restaurant, civic, institutional, religious, and parks & recreation. Excellent for recessing into driveways, with drive-over rating of 10,500 lbs (4,775 kg).
Fixture dimensions of only 0.75" (21mm) diameter and 0.18" (4.5mm) elevation. Contact us for available trim kit for concrete installation.
The heart of PILLBOX is a groundbreaking design that features a fully-integrated, water-resistant LED+optics module that has been tested at one meter of full water immersion and temperatures to -17ºC, eliminating the need for gaskets that can crack and fail. This fixture is not intended for IP 68 use.
Available with MP light engine (PXMPXX):
Multi-protocol dimming, 94lm, 120mA @ 12vDC
2700º, 3000º, 3500º, 5000º Kelvin
Available with LP light engine (PXLPXX):
Non-dimmable, 19lm, 80mA @ 12vDC
2700º, 3000º, 3500º, 5000º Kelvin, AMBER (595nm)
IP67. 5-year warranty.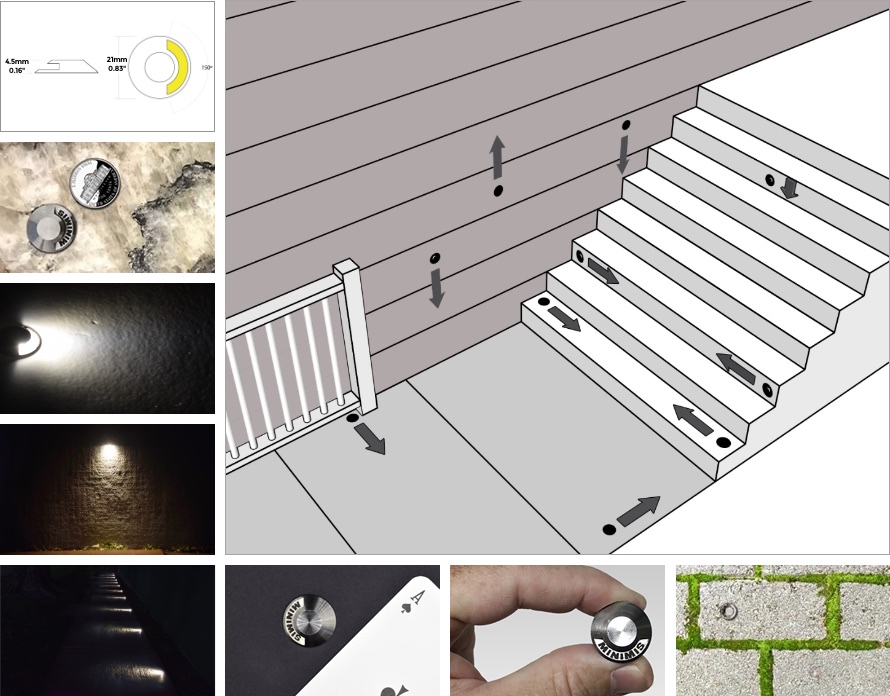 For more images, visit our
images page here >
PILLBOX is drive-over rated to 10,500 lbs (4,775 kg)

PRODUCT IMAGES >
INSTRUCTIONS >
CUT SHEET >
POWER SOLUTIONS >
SKETCHUP + REVIT FILES >