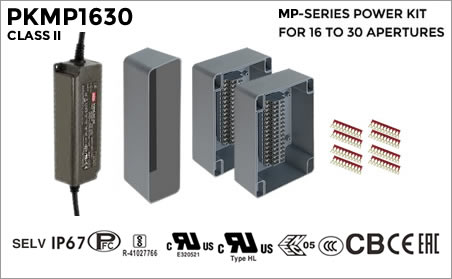 MP POWER KIT INSTALLATION INSTRUCTIONS MP POWER KIT CUTSHEET
For use only with MP Series luminaires (PILLBOX MP, PORE MP, STOMA MP, NICK MP, PINPRICK MP, PAPERCUT MP).
Not compatible or interoperable with LP Series luminaires (IRIS LP, THUMBTACK LP, DOT LP, QUANTUM LP)
Included in this kit:

a: One (1) 110v to 277v AC to 12 volt DC 60W Class II SELV IP67 transformer (UL listed) with dimming leads for 3-in-1 dimming capability.
b: One (1) weatherproof enclosure + lid for power supply (UL listed)
b: Two (2) weatherproof terminal enclosure + lid (UL listed)
c: Eight (8) quick-jump bus bars
NOTE: Power supply must not accommodate more than thirty apertures. Adding more than thirty apertures to your power supply will invalidate your warranty. For configurations of greater than 30 apertures, additional complete power kits are required.
Contact us for assistance.
Before installing, consult a licensed electrician to ensure proper safety procedures, and compliance with local and national codes and ordinances. Always wear PPE.
Subject to availability, MINIMIS reserves the right to substitute for "as good or better" items.
Note: Items may arrive in separate boxes, on separate dates.
For full specifications, read the cutsheet.
POWER SUPPLY KITS for the MP Series of MINIMIS luminaires: